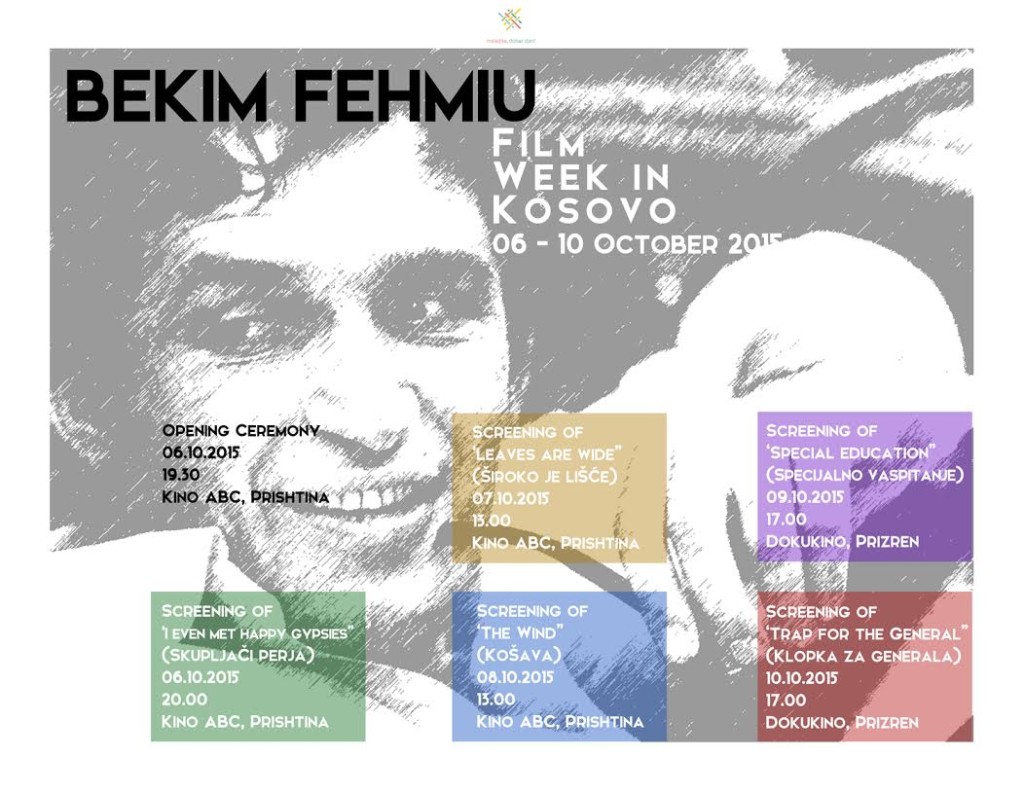 20 Sep

The week of Bekim's movies about Kosovo

Bekim Fehmiu – Film Week in Kosovo

06 – 10 October 2015

The second edition of the Festival "Mirëdita, dobar dan!", will continue in Kosovo. After the presentation of Kosovo cultural and artistic scene in Serbia, this festival will be extended in Kosovo through Bekim Fehmiu Film Week. Bekim Fehmiu, Albanian, Kosovo, Belgrade, Yugoslav and world actor – a symbol of joint past, together with all of its challenges, achievements and misunderstandings, served as inspiration for establishment and realization of this event.

Bekim Fehmiu Film Week will be organized during the period of 06 – 10 October 2015, in two important and memorial cities in the life of Bekim Fehmiu, respectively in Prishtina and Prizren. Kosovo citizens will enjoy five films of cinematographic engagement of the actor Bekim Fehmiu: "I even met Happy Gypsies", "Leaves are Wide", "The Wind", "Special Education" and "Trap for the General".

This event will have the opening ceremony in Kino ABC in Prishtina, on 06 October 2015, from 19.30h, with the screening of the film "I even met Happy Gypsies", awarded with the Grand Prix in Cannes in 1967, among other awards. Other films will continue to be screened according to the planned schedule until October 10th 2015, in Kino ABC and Dokukino.

The entrance to all film screenings will be free. The tickets for particular film or for all films can be booked via e-mail [email protected] or phone number +381 38 246 717. For more information about the event program, information is available on the festival website www.mireditadobardan.com.

Festival "Mirëdita, dobar dan!" is a unique initiative that contributes to initiates dialogue and cultural exchange between Kosovo and Serbia, with the aim of improvement of social, political and cultural relationships between societies. We wish these encounters to become a tradition and continually contribute to establishment of permanent peace and normalization of relationships between Serbia and Kosovo.

The project "Mirëdita, dobar dan!" is implemented by Integra, Civic Initiatives, Policy Center in cooperation with KFOS and forumZFD. "Bekim Fehmiu Film Week" is organized in cooperation with Kosovo Cinematography Center, Kino ABC, Dokukino, Sarajevo Film Center and Center Film. The project is supported by Norway Embassy Prishtina, US Embassy Prishtina, Swiss Embassy Prishtina, Ministry of Culture in Kosovo and Municipality of Prishtina.